Quick and Affordable Credit Repair That Works
When you are interested in a product where do you normally go for feedback? If you immediately go to the review section of a product or turn to friends for their recommendations you are like most consumers out there!
With the device in your hand that you are probably reading this article on, you can easily search the internet for the "best of the best" of almost anything you may want to purchase.
Over the years, many consumers have tried to go to various companies for credit repair services and advice but have been disappointed by services that over promise and under deliver. Credit Law Center is an attorney based credit repair company built on a solid foundation of trust and commitment to their clients. The reviews from both clients and real estate agents and loan officer's speak volumes. Not to mention, the company has been open since 2009 repairing credit as opposed to some companies that last in the industry for a few years or less.
Trusted Partners

At Credit Law Center, on average there are 600-700 new clients a month. Over half of these clients are referred over by loan officer's and real estate agents from 46 different states. If you were wondering what these referral partners and businesses receive from Credit Law Center in return, the answer is simple. Theses agents, after just a few months in credit repair, receive a client that is ready to purchase a new home or was able to close on a house. Both companies are in constant contact to ensure that the goal of closing on a home is met.
A client in credit repair with Credit Law Center can expect that they will be educated throughout the process on how to continue to raise their scores and learn more on the way credit works, so they can continue to build their scores long after they have left credit repair.
One loan officer, Drexel Swanson with USA Mortgage has been using Credit Law Center to refer his clients for several years. "I have closed 8-10 deals this year that would not have happened if Credit Law Center didn't get involved, just three this October." Drexel feels that Credit Law Center works at a reasonable price and goes above and beyond to educate his clients as well.
"One client signed up (less than 30 days before closing) and improved his score and saved $5,000 in closing cost because his scores increased by 55 points. He spent less than $1,000 with Credit Law Center," Swanson says.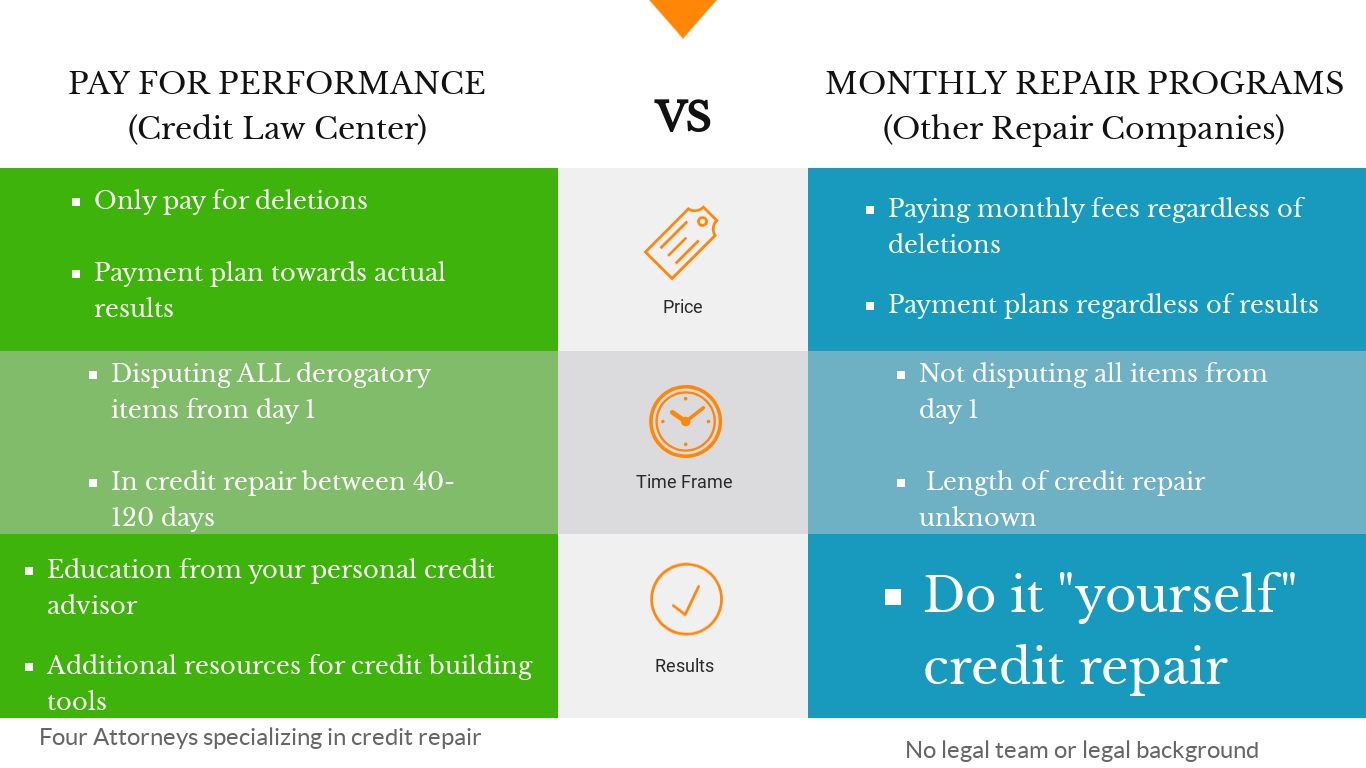 Credit Law Center's Promise to Clients

There are many companies that will lock a consumer into a monthly program which means they are already collecting the clients money and have no real reason to improve the credit scores because they are being paid. At Credit Law Center, their promise to their clients is they will not pay unless items are removed. While there is a credit monitoring fee, this is strictly to show and monitor what items are actually falling off the credit report. Clients with Credit Law Center can go in and look at their accounts and see what is being removed. They also receive letters from the creditors and collectors with statements showing if their debts and items on their report are removed, updated or verified.
There are several complaints out there with various credit repair companies that the consumers were unsure of what really was improved on or where their money was actually going. Credit Law Center clients receive their updates and a list of the items that were gone after, and what was removed or not. Communication and expectation is set at the beginning of the consultation so the client is aware of the possibility of items to come off or not and realistic expectations are discussed, Deborah felt she receive great service from start to finish.
"My husband and I are extremely satisfied with both the customer service we have received and the results provided by the Credit Law Center! When we first contacted CLC we were in the process of trying to buy a house and we thought that this would be impossible due to my husbands horrible credit scores. My husband had been making strides on his own to improve his credit, but the process was extremely difficult because of all of his past debts and collections. After the first 45 days we were shocked! A lot of the items that were dragging his score were removed and his credit had improved dramatically! We are so grateful to have found a company that is so dedicated to what they do. They have such a great reputation because of their high success rate and also will not charge you unless they actually get items removed! Sincerely, thank you so much!"

What do the scores mean?
If you are interested in what scores you are seeing when you pull your own credit report, you are looking at consumer or vantage scores. This is the score you have access to online that may show higher than what a lender or bank would pull for you. These are not true FICO score. These scores show higher so that you will start shopping around for products, or continue to spend. Your score may be significantly lower when you apply for a home loan with an actual bank or lending institution. Once you understand this, the frustration or mind game you feel that happens when your scores are so different won't be so frustrating. So, what do your scores mean for you?
Very Good : 740-799
Good : 670-739
Fair : 580-669
Poor : 300-579
What are the fees associated with credit repair?

$65 for collections, charge-offs, and repossessions.
Bankruptcies, foreclosures and short sales are $120.
Credit Law Center is able to also help in debt negotiation
Credit Monitoring
Do you have questions about your credit report? If you would like to speak with one of our attorneys or credit advisors and complete a free consultation please give us a call at 1-800-994-3070 we would be happy to help.
If you are hoping to dispute and work on your credit report on your own, here is a link that provides you with a few ideas on how to go about DIY Credit Repair.
A Note From The Author: The opinions you read here come from our editorial team. Our content is accurate to the best of our knowledge when we initially post it.
Article by Breana Washington