A Referral Program That Works
As a real estate agent or loan officer, are you finding that many of your potential clients are being turned away due to low FICO scores? What are you doing to help them once they are denied? Credit scores are a vital part of the home buying process. So, what do you do when your client can't get financed? If you do not have a trusted resource in your toolbox and a great referral program, you should continue reading.
The Referral Process
This is no fly-by-night credit repair program. We are a law firm specializing in credit repair and we only charge our clients for the successful removal of an item from the credit report. At Credit Law Center we onboard anywhere between 600-700 clients a month. We have worked diligently with lenders and real estate agents to ensure we are educating and informing each one about what their clients are going through with poor credit and what they may be able to help them (things like mistakes on the credit reports they see, or as real estate agents, clients that want to buy but cannot) and what the next steps are for their client, whether that be a little credit education or a complete overhaul of the credit report. We also educate their clients about ways they're impacting their credit scores and what their rights are as a consumer under the FDCPA (Fair Debt Collection Practices Act) and the FCRA (Fair Credit Reporting Act).
Actually, 53% of our business comes from agents and brokers all over, as we currently work in 48 states (excluding Georgia and South Carolina). Our referral program is exceptional and we work very closely with each agent and lender.
Real estate agents and loan officers are missing out on business by turning away borrowers with less than perfect credit scores. While you cannot change the lending process, you can invest in the potential of clients and partner with a referral program that works!
Let Credit Law Center be part of the missing puzzle piece.
Your Piece of the Puzzle
Give your clients the gift of a second chance. Each interaction you have with a borrower that becomes deflated due to not qualifying, you should attempt to turn the conversation around with the hope of "it isn't a no, it's just not yet."
If you are looking at credit scores with a client and you see someone that cannot get qualified due to medical collections, repossessions, bankruptcy, student loans that have fallen behind or are at a 600 and below, those should be clients you send directly over to speak with a credit advisor. Clients in the poor and fair range will appreciate your effort in trying to aid them to get a home loan rather than turning them away and shutting the door on a better future for themselves and possibly their families.
Very Good : 740-799
Good : 670-739
Fair : 580-669
Poor : 300-579
As an agent or lender, you may rely on previous client referrals. How much more business could you bring in when you spend a small window of time with someone and refer them to a program to help them? You will soon become a trusted partner to them and to anyone else they may know that has gone through something similar.
The Return on Investment
The benefit to sending a client to Credit Law Center is that it costs you, as a lender or agent, nothing! We understand that building your pipeline and building relationships comes down to the people you refer business and how quickly they get back to you. The referral partners we work with can feel secure in knowing that their clients will only be charged for actual work that is being completed rather than a month to month service fee.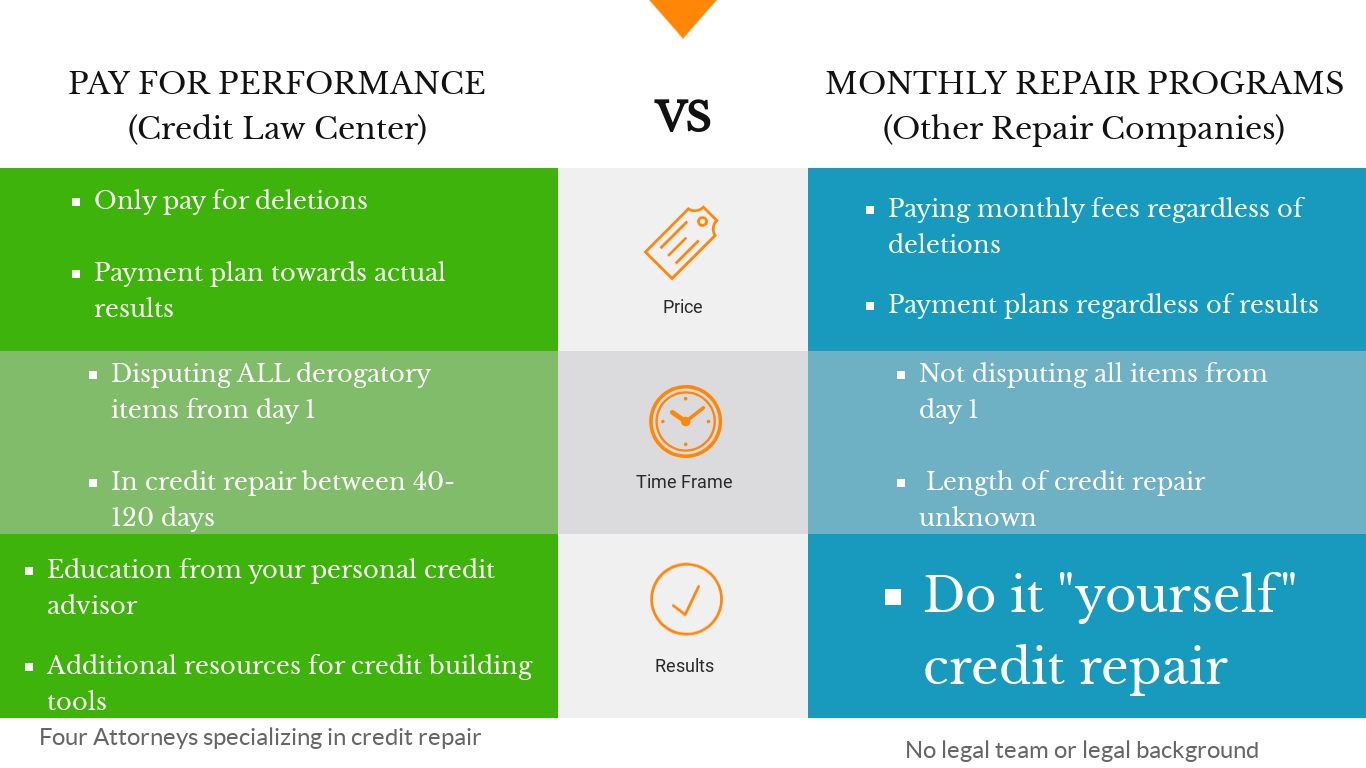 The Perks to the Program
As a referral partner with Credit Law Center, you will have a credit advisor appointed to you and your clients. This is your main point of contact and someone you can rely on to send you industry specific education, updates on clients improvements and credit specific questions. We conduct monthly webinars that you can tune into with credit education or industry changes. You can tune into these or receive a copy so you can continue to use it for your office or client education. We believe that credit repair as a whole, has a negative connotation surrounding it. We have over 30,000 satisfied customers whose lives have been changed because someone referred them and they started the program.
Remember:
We can work with collections, charge offs, tax liens, judgments, bankruptcies, foreclosures, late payments and issues with some student loans
We only charge the clients for the removal of the items we dispute
They will become educated in how to improve their credit scores and useful tips on usage and good decisions financially
You will be updated on a clients progress
Turn around time for clients is quick, as we do not get paid unless we are making progress
You can rely on our company and your credit advisor for any industry, credit specific questions
If you run into a client that you have to turn down, you do not have to take any extra time trying to go over their credit report and help them; leave it to us! We are a trusted part of your team and will work alongside you and your clients. We look forward to helping you grow your business and helping changes lives with you.
Do you have questions about your credit report? If you would like to speak with one of our attorneys or credit advisors and complete a free consultation please give us a call at 1-800-994-3070 we would be happy to help.
If you are hoping to dispute and work on your credit report on your own, here is a link that provides you with a few ideas on how to go about DIY Credit Repair.
A Note From The Author: The opinions you read here come from our editorial team. Our content is accurate to the best of our knowledge when we initially post it.
Article by Breana Washington