It's no news to us that the word "credit repair" can have you feeling uneasy and unsure about the whole process of rebuilding your credit. Here at Credit Law Center, we want to provide every client with personal attention to their individual needs and leave you feeling educated and confident about the decision to start the credit repair process. So you have done your homework and researched the credit repair process and the many different repair companies out there. What makes Credit Law Center's credit repair process different?
What Makes Credit Law Center's Credit Repair Process Stand Out
The credit repair process at Credit Law Center is unique for several various reasons, and our company takes pride in the services that we offer.
We have 5 Attorneys on Staff
Yes, it is true that we are an actual law firm and have five attorneys on staff willing and eager to fight for our client's rights. The FTC reports that 79 percent of American consumer's credit reports contain errors. The FCRA, (Federal Credit Reporting Act), states that all credit reports must be accurate, verifiable and timely. Our attorneys assist consumers in disputing questionable items on their credit reports and demands that the reports are 100% accurate. The attorneys in our office have over 14 years of litigating consumer rights cases, and we have perfected the dispute process.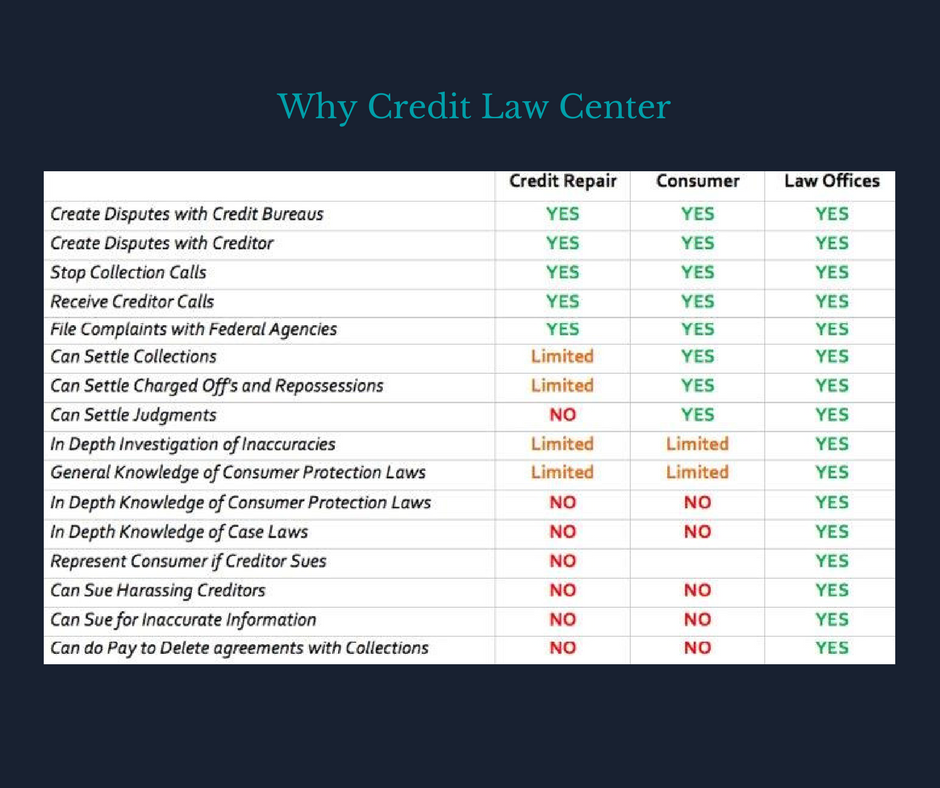 Our credit repair process does not require a monthly fee.
Unlike other credit repair companies, we have a performance-based pay structure and do not require an upfront fee. You will only pay for items that we get deleted; however, we are similar to many other law firms and depending on the contract size you may pay a retainer.

We value our clients
Customer service is extremely important here at Credit Law Center and we are always looking for ways to achieve superior customer service and client satisfaction. Our staff takes great pride in educating our clients with the credit repair process and helping them continue down a path of financial stability. Each individual client has a unique circumstance and chain of events that have brought them to seek our services. With 79 percent of credit reports containing errors its quite possible to say that some of our employees or their family members have had some kind of incorrect reporting on their credit report.