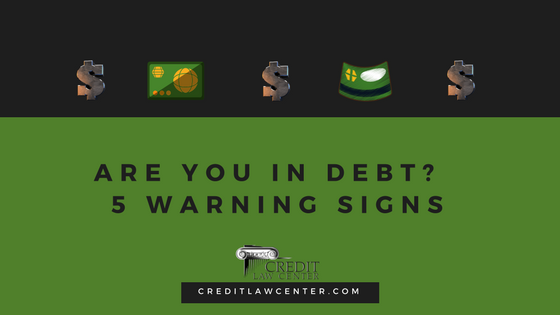 Do you hesitate to open your credit card statements each month, afraid of the debt you may be in? Are your credit cards allowing you to go further and further in debt? It is true paying cash gives a clearer picture of what we have and what we can spend. With credit cards being such a crucial part of building a credit history, it is important to remember you must still live within your means and not fall into this financial mess. Here are some signs you may already have a problem.
1.Are You Making the Minimum Payments
Making minimum payments to your credit card companies can be a sign you are in debt. Paying the minimum payments on even a minimal debt could mean you will be paying on it for years and years.
2.Large Minimum Monthly Payments.
If you add up all the minimum payments on all revolving debts,(credit cards, not home or auto loans), and the minimum payments of all debts equal 20% of your income or larger, you have too much debt. Exceeding 20% of your income risks you not being able to cover housing, food, or transportation.
3.Are Collectors Calling You?
Are Collectors or creditors calling threatening to garnish your wages or demanding payment? Not paying your credit obligations on time can be a sign you are in over your head. Even if you are just late on a bill, being organized and knowing what is due and when it is due can save you a late charge. Before you pay a debt collector, it is important that you know that this debt is, in fact, yours and you do owe it.
4.Robbing Peter to Pay Paul
If you are transferring money from one card to another or refinancing your house to pay off existing credit cards, this may be a sign that you are in over your head.
5.Being denied a loan
If you have been turned down for a loan or credit card, it is time to re-examine your situation. If high debt levels lead a lender to deny you the credit you probably have a debt problem. Anytime you are denied credit you are allowed a free credit report. According to the FTC, 79 percent of all credit reports contain errors, be sure to examine your credit report for errors.
These are just a few signs that may indicate you have a debt problem. It is important to stay engaged in your financial situation.