How Do Inquiries Impact My Score?
One of the common misconceptions about a credit score is that inquiries have a major role in the score. If you have looked at your credit score recently and feel that there are not many dings to the report that would cause your score to be low, take a few things into consideration first:
Do you have two or more revolving lines of credit? If so, are these accounts at or below 30% of the limit?
Now, are there any collections, charge-offs or other accounts that are in a negative standing? You'll want to have these removed from the report.
Lastly, do you have incorrect or inaccurate contact information on your credit report i.e addresses, names, etc?
All of the above scenarios should be looked at before jumping to what your inquiries look like.
One Too Many Inquiries
If you have been credit card or car shopping lately, you may notice a multitude of inquiries on your credit report. It is very common for a dealership to throw your information into their system to see if they can find you a low interest rate at a great loan term so they can sell you the car on their lot.
Understanding how this impacts your score allows you to walk into each situation prepared and knowledgeable. Whether you are applying for a new credit card or a car note a few things.
When shopping for a car, research a Credit Union you could get a loan through, rather than the dealership financing option
Know your credit score
Don't apply for credit when you don't need it
Each time you apply or allow someone to check your credit score, you are allowing them to apply another hit to your credit profile.
The best rule of thumb for inquiries is no more than 10 "pulls" on your credit over a 12 month period.
Once you start running into more inquiries than this, your credit score will start to be impacted by them. Again, applying for unnecessary credit lines will start to impact you in a negative way.
I Have Been Denied Credit
If you have run into issues of hoping to start building credit, but have been denied credit cards over and over, there are a few options you have. Applying or inquiring for more and more credit is not helping your scores. You can try a few other options such as:
Applying for a Secured Credit Card
CD Builder Loans
Second Chance Checking
You can look for other options for credit cards here
What My Credit Score Says
Your credit score tells a lender the likelihood of you to default on a loan in the next 12 months. Credit demonstrates your trustworthiness to pay your bills and loans on time. Keeping this in mind, it is easier to understand what your credit report says about you as a borrower.
If you have late payments, this impacts your score significantly.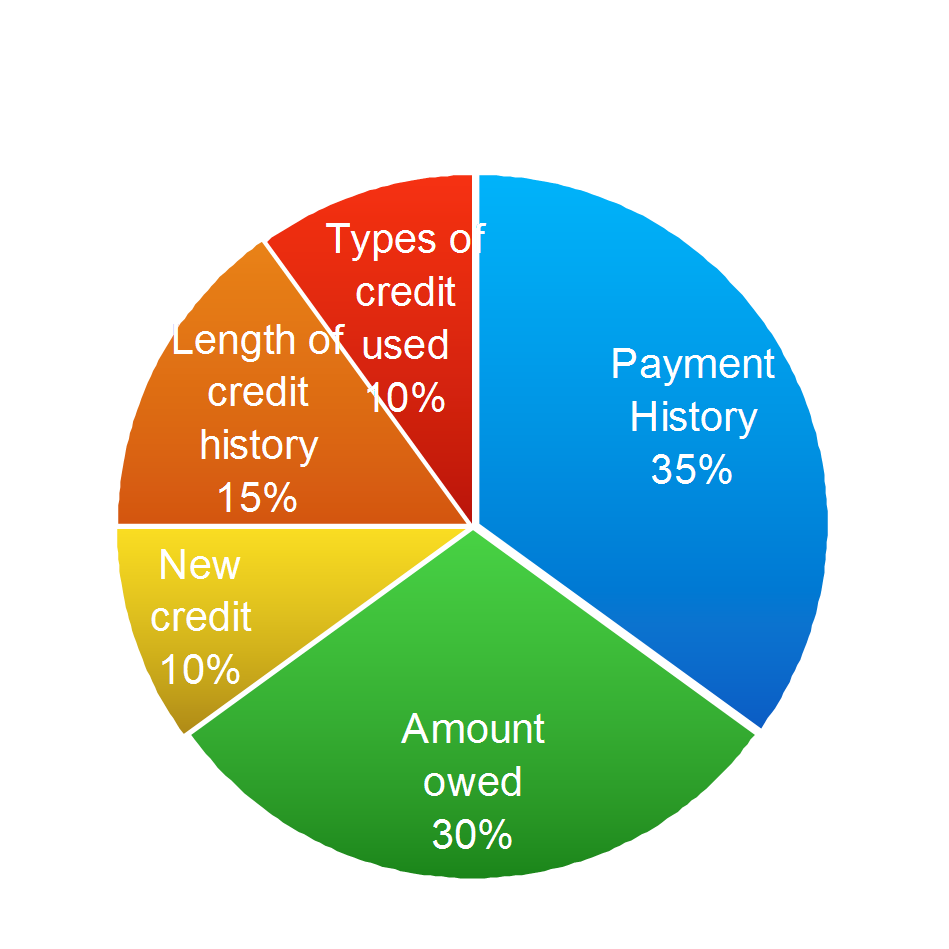 If you look at the chart above, you notice that your payment history makes up 35% of the FICO score. Therefore a late payment will tank your score! Another large portion of the FICO score rating, is the amount you owe. If your credit card balances are high, the easiest and quickest way to start improving your score is to pay your cards down as low as you can, rather than making the minimum payments.
In order to have a healthy credit profile, it is recommended to have two lines of revolving credit, and two personal (like home and auto) loans. If you have questions about other reasons your scores may be low or would like to speak with an attorney today, please call 1-800-994-3070
. We would be happy to assist you further or answering any questions you have concerning your score.
A Note From The Author: The opinions you read here come from our editorial team. Our content is accurate to the best of our knowledge when we initially post it.
Article by Breana Washington