So You're Saying There's A Chance?
All jokes aside, credit repair is a very serious matter.  We have come into contact with many companies that over promise and under deliver when it comes to the services they offer. Have you been teetering back and forth between companies but have been unsure what to ask? Well here's your guide for working through the sales pitch, and getting to the hard facts.
What is credit repair and how does it work?
When a consumer decides that they are going to attempt credit repair there is often a "pain point" involved that has led them to this decision. For many of our clients, they have visited a lending institution and have been denied financing. Being denied for a home loan or car loan can really get a person in gear and ready to go because credit is important when it comes to major financial purchases. Have you been denied financing recently and are trying to start making your way back toward better credit?
You may find yourself looking for ways to improve your credit score and running into a dead end with "repair" companies. Another thing you may have found is that you may have heard that you can work on your credit repair yourself.
A law firm, like Credit Law Center has the ability to do more than both a consumer and what a credit repair company can. The side by side shows just a few things that you may want to start quizzing your current or potential credit repair company you hire on and start to look for companies that can help you out in all aspects of credit repair.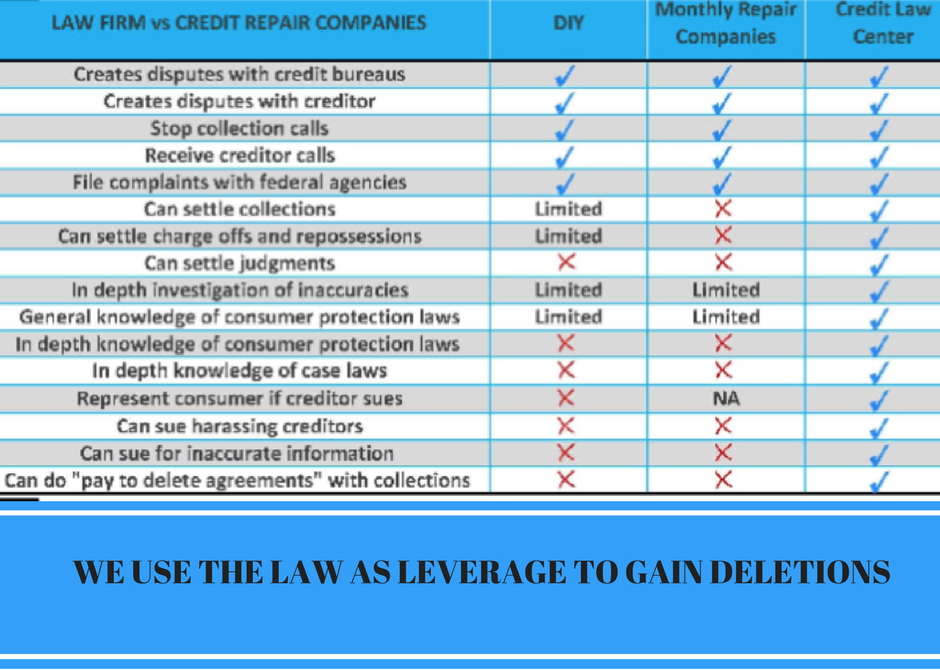 1. What Will I Need To Get Started?
In order to enroll in credit repair with Credit Law Center you will want to speak with a credit advisor first. They will walk you through our process and what you can expect as far as cost and time frame goes. You will know after your consultation what the cost could be for credit repair if every item came off the report.
You will notice we said if everything comes off. Each item is priced per line item as we only want to charge a client for the successful removal of what we dispute. You would receive a contract ceiling price and be billed accordingly after each round is completed. We are a pay for performance company, which just means you will only pay us for results as opposed to a monthly repair company.
Next, you will need a copy of your credit report, which the credit advisor will pull with you. They will go through line by line with you and educate you on how you can improve scores while we work on any derogatory items on the report. You can expect to pay $1 at the consultation and then decide if you would like to work with our Law Firm. Again, you will be quoted all pricing before ever signing a contract.
Although the cost may sound cheaper per month for a monthly program, and manageable for your budget, it might hurt you more in the long run.  Too often we see consumers that agree to this and they end up signing up for something that takes years for them to improve their credit. Our typical time frame is 60-120 days depending on what other items are positively reporting on a report.
We will work inside anyone's budget!
Finally, a contract will be emailed to you and after a few ID's submitted to your credit advisor, you will be ready for credit repair! We are built for speed and this is why 53% of our business comes from referral partners like loan officers and real estate agents. They can expect that their clients will get results quickly, and be ready for financing.
2. Is There An Attorney Involved/Working For Me?
We currently have 3 attorneys in the office that our clients can speak with about their credit reports or any legalities they may come across during or after credit repair. These attorneys also have the ability to work on your behalf, to stop collection calls as well as work with you on what you can say now that you are a client. When a collection company calls you and you are represented by a law firm, you have the ability to request no further communication at that time. Should you continue to receive calls, you may be able to sue for continued harassment.
Does your current "law firm" have the ability to do this? Ask the hard questions!

3. Do They Have The Ability To Negotiate And Sue?
Credit Law Center has sued all three major credit agencies: Experian, Transunion, and Equifax. Ask your current or potential company in questioning if they can do this!
Unfortunately for a consumer, there are many ways that these agencies and collection companies go in and break the law. The main reason for this is due to the lack of education out there about credit and what can or cannot be done. You want a legal team guiding you and informing you of your rights through this process.
Our legal team is versed in the FDCPA (Fair Debt Collection Practices Act) and  FCRA (Fair Credit Reporting Act).
Although your credit advisor will not give you legal advice, you can rest assured that as a client you have access to any of the attorneys on staff about matters such as harassing phone calls and items being misreported. They can also negotiate debts on your behalf or sue for damages if you have been impacted by misreporting on a credit report.
4. Who Will Be Monitoring My Credit?
There seems to be many companies out there right now that do not monitor the clients credit while in repair, or do not let them know if they have new activity or items reported. We will monitor your credit with our monitoring service and will update you every 45 days or so on your report. You have access to a copy of the report at all times.
Do you receive updated copies of your credit report with your current service?
This is vital for us, as it allows us to see what items are being removed when we dispute and allows us to also see if you are ready to go from a credit score standing on financing. We will never hold a client in repair any longer than need be. If they are at a point that a lender says they are ready to move forward, we will pull them out of repair and send them on their way!
5. Am I Being Billed Monthly Regardless of Items Being Removed or Not?
Lastly, and most importantly, ask what you are being billed for. If you are working with a credit repair company and spending money monthly with no activity as far as your score moving at all, it may be time to make a switch. We are saying there's a chance! If you work with the right company that can provide you with great results and you listen to the education our credit advisors provide, you may be off to your dream home or dream car sooner than you thought!
If  you are currently working with a credit repair company and are not satisfied with your results, please let us know. We would be happy to help you get financially ready for whatever your next steps might be (house loan, car loan, etc.) Please  contact us today for your personal consultation with a Credit Advisor. We have helped over 30,000 clients improve their scores. Let us get you back on the path toward financial freedom.
Article By Breana Washington
A Note From The Author: The opinions you read here come from our editorial team. Our content is accurate to the best of our knowledge when we initially post it.
Check out Credit Law Center's infographic on 4 myths of collections reporting on credit reports.