Self Credit Repair – Credit Law Center
What is self credit repair? Sounds like a silly question but this industry can be confusing to consumers. The credit reporting agencies only want self credit repair because
When considering self credit asks yourself a couple of questions; do you change your own oil? Do you do your own taxes? If the transmission went out on your vehicle would you repair it yourself? I am not listing these questions out to talk you out of self credit repair, but merely to point out that there are several things you could do yourself but choose not to. If you were to do some of the things mentioned above you, would probably Google it or find some directions on how to. Because we know there are some people that want to repair their credit on their own, so we have listed out our instructions and process right here at Credit Law Center.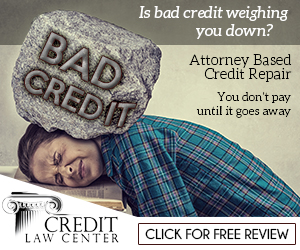 So if you want to do your credit repair yourself, then more power to you and we truly hope you are successful. But if you're not successful reach out for some help. Credit repair is just like anything other profession, there are good and bad doctors, mechanics, accountants and there are good and bad credit repair companies.
If you need help we are here. Our company does not charge for review advice or even guidance, in fact we only charge if we are successful. When vetting companies for help, make sure you only work with law firms. If you are working with a credit repair company that is not a law firm, they cannot do anything you can't do yourself especially if you have already started the credit repair process.
If you have any questions please contact us we would love to help you.
Contact: 1-800-994-3070
Check out Credit Law Center Reviews: