The Elephant in the Room
The issue to which everyone is aware, but few want to talk about-credit repair companies.
When you hear credit repair, what pops into your mind? You may have immediately rolled your eyes and scoffed at the phrase "credit repair!" Hey, we get it! You may be picturing someone holed up in their basement, eating Hot Cheetos and hysterically laughing each time they find their next victim in need of a quick fix on their credit scores.
We are right there with you. Eye rolling, scoffing and scratching our heads at how so many people fall victim to these "quick fix" companies-if you can even call them a company. Again, we get it. It makes sense— the low fees, the promises and, of course, the emphasis they put on how your life is going to dramatically improve once you sign up for services. Hope is the driving factor for many. Who can blame consumers for hoping things can be better? These credit repair companies are not working on credit reports like Credit Law Center. We know there are no companies, at this point, that help clients the way we do.
Here's the difference:
We have actual attorneys that work on your file. Yes, we have the word law in our name AND, yes, our Attorneys work for you as a represented party. We use the law as leverage to get accounts deleted for you.
You pay only for items successfully removed? Yes! Those monthly fees other companies are charging -that drag on and on- sound low and reasonable now! But, two or three years down the road, the cost starts to add up. We don't waste any time trying to get derogatory items removed. We are a pay for performance Law Firm. So, you can bet that speed is what we are after!
Our credit advisors are here for you to answer questions, be a resource and educate. This is probably the most important part. We don't want you to be a repeat client if we can help it! We want you to know the ins and outs of the credit game! Our goal is to get you in and out of the process as quick as possible-with as much success as possible. We win when you win!
Our Process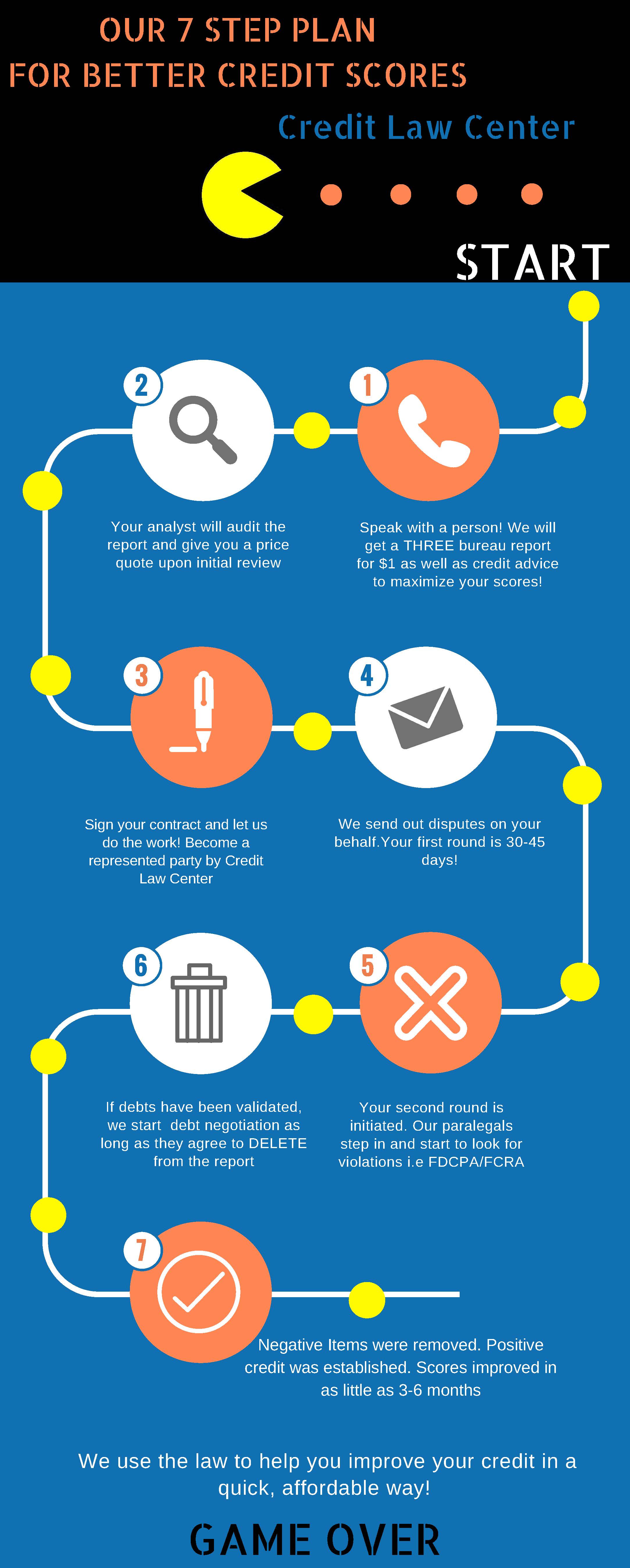 Who tells you all their fees up front? We do!
You can't get any more transparent than that! Our website has the pricing menu, our credit advisors tell you the max you might pay, should 100% of the items come off your report. There is nothing hidden and we ensure that you know exactly what you are getting into. The only thing you have to do is decide if we are the right fit for you.
Better Credit, Better Life
The best piece of advice we offer to consumers on a daily basis is, to first, become educated. Please, research other credit repair companies out there; we have! Listen to what they have to offer. What are their fees? Do they tell you upfront? After those questions are answered, go with your gut. In January 2018 we signed over 700 clients. For many of those, they will see results in as little as 90 days. We are not here to sell you a service. We are here to help you build a better life. We have found that building trust means addressing those concerns, up front, with potential clients. So, we ARE talking about the elephant in the room.
Check us out on our social media platforms. Follow us on Facebook and Instagram for more information and blogs!
A Note From The Author: The opinions you read here come from our editorial team. Our content is accurate to the best of our knowledge when we initially post it.
Article by Breana Washington